Wedding Palette
Choosing Your Wedding Palette
Choosing your wedding palette can definitely be one of the fun parts of the planning process. Inspiration can be found anywhere, and while some wedding color combinations may certainly be more pleasing than others, ultimately there are no wrong choices because it's your big day. With that being said, your Denver wedding planner Blue Linden wants to share some do-and-don't-suggestions for choosing your wedding palette, showcase some of our favorite wedding color combinations, and introduce some amazing tools to help with settling on your ideal set of hues!
Wedding Color Combinations Do's
Reflect the season! Generally, there are "rules" of colors in accordance with seasons: Pastel is for spring, while bold is for summer. Fall staples are deeper hues/jewel tones, and for winter metallics and blushes are favored. To put a twist on the classic pairings, mix in one bold accent color from a different "season" or introduce texture.
Mood. Certain wedding color combinations can help to create a certain vibe. Does canary yellow make you happy? Does hunter green make you feel connected to nature? Perhaps sky blue makes you feel like you're floating. If there's a certain feeling or mindset that you wish to instill in your guests, figure out what color makes you feel the same way and work that into your wedding palette.
Inspiration from your venue. Spaces like converted warehouses, lofts, tents, or rooftops are relatively blank slates allowing you to put your theme and colors to work without much interference. However, if your dream location already has a set decor that you can't alter very much, opt for a color palette that ties in with that space.
Real life influences. What colors make up your home décor? What do the clothes in your closet look like? Do your accessories favor certain hues? Color schemes that you live with everyday could reflect the colors you like most. While you don't have to match your wedding color combinations to your wardrobe exactly, the inspiration you find there can act as a jumping off point if you're lost.
Color wheel it. Colors that go well together are typically opposites (cool and warm, like teal and coral) or neighbors (sharing a primary color, like baby pink and maroon).
Wedding Color Combinations Don'ts
It's important to say: you don't have to have a palette at all. You might have just a vibe you wish to convey and want to mismatch the scheme - and that's totally fine!
Don't choose a color JUST because it's "on trend." If you don't love it, don't forever etch it in your wedding pictures to relive every time you look through your albums.
Don't make it harder on yourself by choosing colors that aren't naturally found in nature. It will either make it extremely difficult (maybe impossible), or it will cost a lot more to find or dye flowers to work with your choice.
If you're choosing a palette, narrow it down. Don't choose 30 different colors. It will provide for a confused or overwhelming visual impression.
On the other hand, don't go sparse. Stepping out of the box, even if just a toe, can prove a great payoff.
On the other, other hand, don't count-out white! It's completely underrated. There are many, many shades of white: from ivory to cream, eggshell to beige, and many in between and around, do 10 or 20 shades of white as palette. You can add texture to elevate (lace, feathers, sparkles, etc).
If these ideas and tips aren't enough to help you out, you can take it a step further and use some great internet tools. Paletton let's you see color in action; play around with different hues and see where colors lie next to one another on the wheel. There are also sites that can provide inspiration with real wedding color combinations in palette form. The Perfect Palette lets you select an inspiration color and then see it within real wedding palettes. The Knot has entire 'wedding colors' section for you to browse through for seasonal and real wedding color scheme suggestions. A Practical Wedding provides trendy color pairings and even more tips, and Magnet Street breaks down similar trends by season.
And while we're talking about trends and inspiration, we couldn't let this post finish up without a little bit of creative suggestion from yours truly. Evident from our Pinterest boards and styled shoots, while this Denver wedding planner absolutely loves classic pairings, we also do not shy away from bold, trendy, or adventurous wedding color combinations.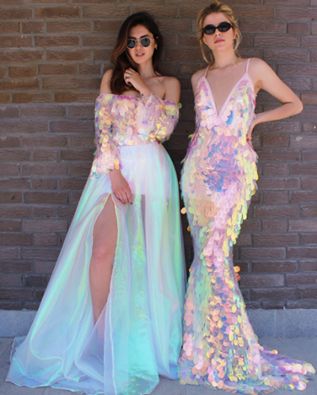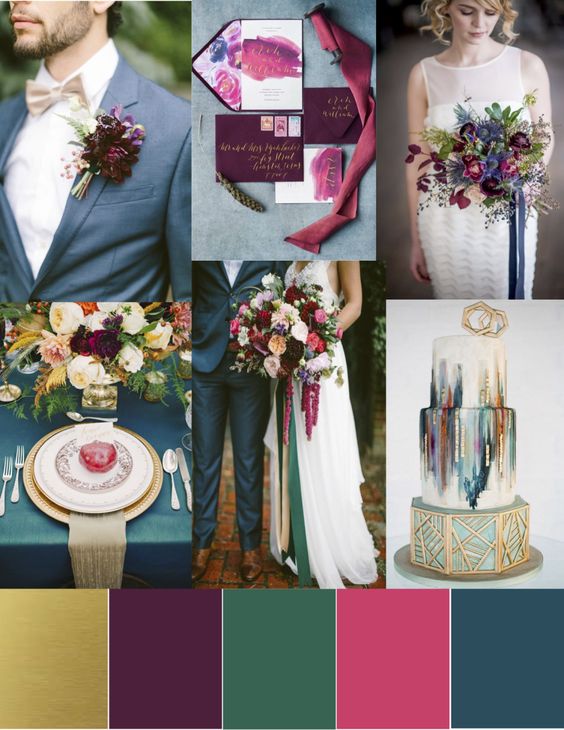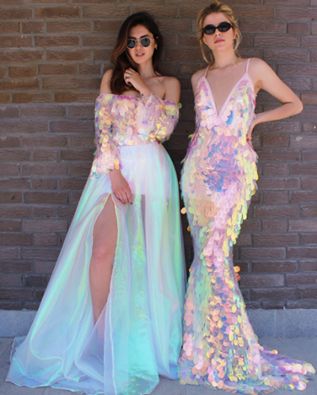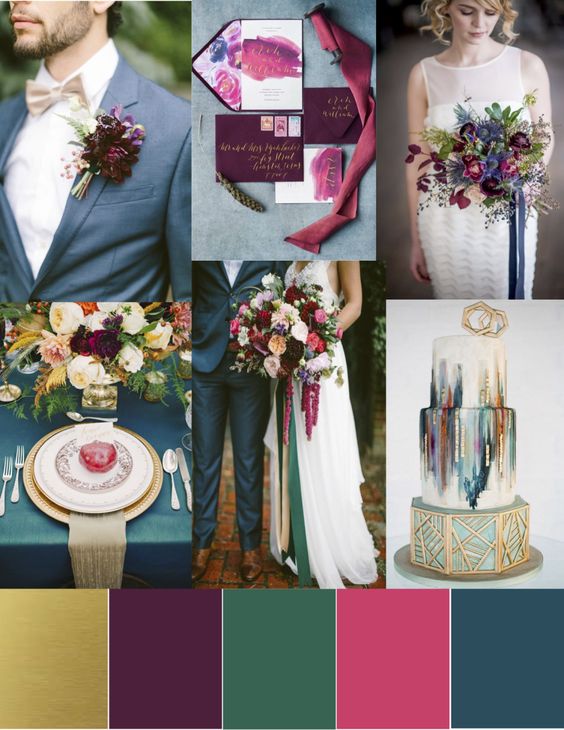 Wedding Color Combinations Inspiration Board
We hope this information about choosing your wedding palette helps in making your wedding color combinations beautiful, impactful, and exactly what you have envisioned in your mind! Reach out to us for other tips and for any help with you wedding planning needs by clicking the social media buttons below!